We are halfway through the work week, so it's time to celebrate!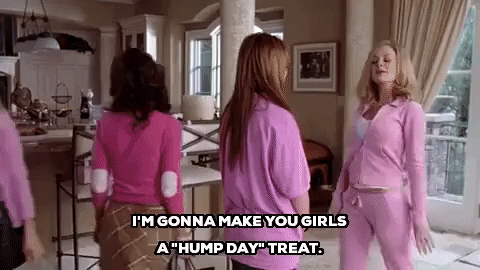 And in fact, I do have a treat for you! Hands up if you read 2014's You by Caroline Kepnes…
I read the sequel, too. And I'm going to be all over the third instalment if there ever is one. The series has its ups and downs for me in terms of the pop culture diatribe, canon characterization and plot points, but Joe is a character that has left an indelible mark on my bookworm soul and I just can't not be involved with him. Yay for double negatives!
So, you can imagine my utter joy and elation – and yes, some trepidation (what if they fuck it up!?) – when I woke up this morning to the official trailer for the new series You based on the books.
Honestly, this book is perfect for an adaptation.
It actually looks pretty good, I have to admit. And I loveeeeee the casting choice of Penn Badgley in the role of Joe Fucking Goldberg.
Watch the trailer here.
You premieres September 9th! Lock your doors and get your popcorn ready!
"And now for something completely different…"
---
It's WWW Wednesday time! Not to be confused with peanut-butter/jelly time.
🔪What I Read Last
I just finished The Woman in the Window by A.J. Finn and I LOVED IT. Five stars and one case of lady-wood. Catch my review here.
Seriously, the whole thing just worked for me. The Hitchcock vibes. The Helen Hudson-esque lead character. The black-and-white movie parallels. It was perfect. I binge-read it over Sunday, literally could not put it down.
And THEN my #bookstagram post for it got a heart and comment from the author himself! So, my week can only get worse from here. Seriously, it can't get any better and I'm totally prepared for that impending disappointment.
🔪What I'm Currently Reading
I just picked up The Last Mrs. Parrish by Liv Constantine. I'm not far enough into it to render any kind of early opinions, but I'm super excited to see how this one turns out because I've read a lot of good reviews for it.
I love when bitches go cray. A perfect couple and an envious outsider who wants that life? Homewreckers doing some violent homewrecking is always a good time. It might not be an original idea, but what is anymore? I'm hoping this is binge-worthy, popcorn reading.
I've also got an arc of When the Serpent Bites by Nesly Clerge on the go that I hope to get a review up for next week!
🔪What I'll Read Next
Omigod what will I read next? That's a question I'm still mulling over, to be honest. I'm so far behind on NetGalley arcs that I'm not exactly sure where to start with them. The oldest first? The newest? I know I'll definitely pick something off of there.
I'm thinking Dark Game by Rachel Lynch as I've been curious about it for a while. It's a series starter for a new female-led UK-based police procedural and it looks prettyyyy gooood.
I'm also waiting on Brave by Rose McGowan to come my way in the library queue. She's an actress that I was so familiar with growing up. She was in a lot of my favourite movies – Scream, in particular – that when all of this Harvey Weinstein bullshit starting to break, and she became involved, I was immediately there for her story. I'm excited, curious and prepared for some heavy topics when I finally get my chance with her truth.
---
Stay safe. Be Kind. But, take no shit.
Happy Hump Day, Booknerds ✌️🔪